By Meryl Sebastian
BBC News, Delhi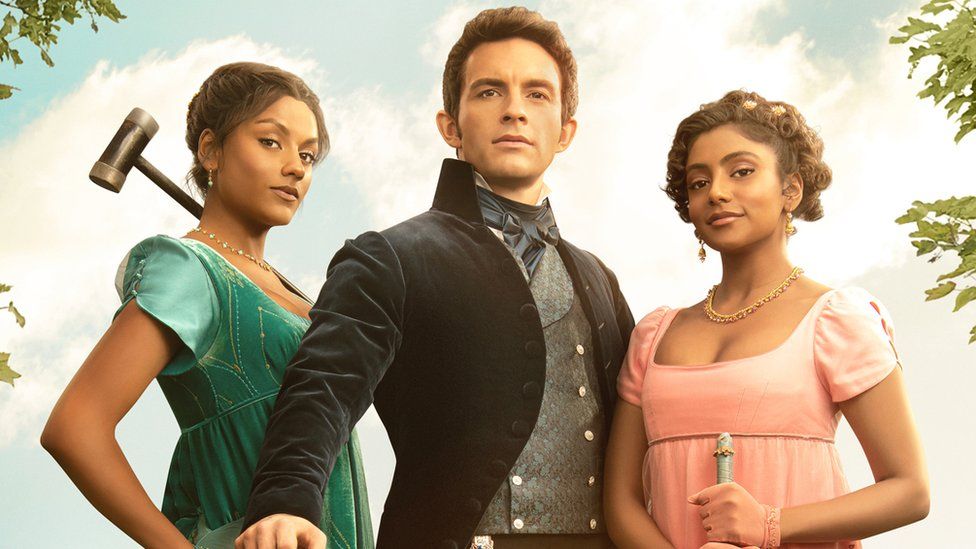 "Have you read Ghaleeb?" Edwina Sharma asks a suitor vying for her hand in the latest season of Netflix's hit period drama Bridgerton.
The mention of Mirza Ghalib, a celebrated 19th Century Urdu poet, was one of the show's many attempts to emphasise the Indian origins of the heroines, Kate and Edwina Sharma, played by British-Indian actors Simone Ashley and Charita Chandra, respectively.
But despite, or perhaps because, of the references – bangles, Indian-ish embroidery, masala chai, a melodramatic tune from the Bollywood blockbuster Kabhi Khushi Kabhie Gham, even a Hindu wedding tradition – Bridgerton has raised a fair number of mocking eyebrows.
And, with two brown heroines in early 19th Century London, it has drawn criticism for being careless with details and glossing over race and colonialism.
While the Indian diaspora has mostly welcomed seeing someone who looks like them on screen, the show has left people in India with mixed feelings, from amusement to irritation to disappointment.
Even as the diaspora grows, and tells its own stories in Hollywood and on Netflix, Amazon, HBO and Hulu, Western shows nevertheless seem to rely on easy stereotypes when it comes to representing India itself.
With entertainment industries in several languages thriving in the country, Indians have never really looked to the West for representation on the screen.
Audiences have usually reserved their harshest criticism for media made at home. They are more likely to critique the way a southern Indian character is portrayed in a Bollywood film than take aim at Apu in The Simpsons.
And until a decade ago, Indians in Western productions were mostly crossover stars – from Shashi Kapoor and Kabir Bedi to Irrfan Khan and Priyanka Chopra.
But that changed with the rise of Indian-origin creators and showrunners in the West, especially in the US.
Actor and writer Mindy Kaling, who made The Mindy Project and the Netflix hit Never Have I Ever, has been one of the most visible entertainment industry figures trying to expand the space for Indian-origin creators – and stories about their identity. Comedians such as Lilly Singh, Hasan Minhaj and Hari Kondabolu, even brought the the Indian-American/Canadian experience into the comedy scene and political satire.
As the audience began using social media to call on storytellers to reflect real-life diversity on screen, YouTube and streaming platforms took these shows, which were inherently American or Canadian, all over the world.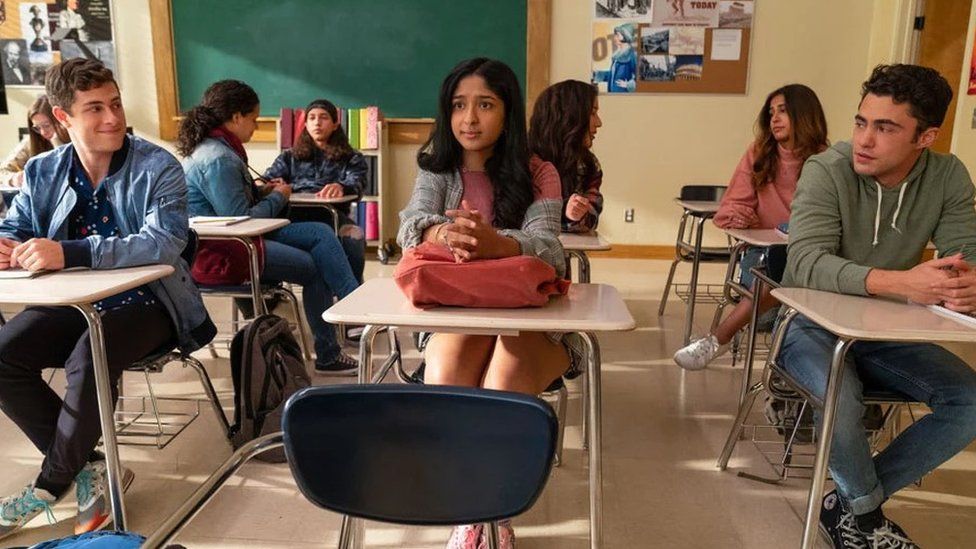 But Bridgerton's season two has defied those boundaries by seeking to tell the story of Indians in Britain for the diaspora, but through a markedly foreign lens.
"It's exciting to see how romance and media have progressed over the last decade alone… but we are so, so far from it being enough," Indian-American romance writer Alisha Rai said.
"With so few examples of decent representation what seems to always end up happening is that the community wants every snippet of representation to be everything to everyone and that's simply not possible for the handful of showrunners and writers who manage to get to the finish line with South Asian characters," she added.
Bridgerton's stylised, sexy take on Regency Britain has won fans, even grudging ones.
Even in the first season, which featured a black duke as its hero, it didn't really delve into how he got there, avoiding any mention of slavery or race. It does the same in its second season, where it tells the story of an Indian family visiting London to find an aristocratic match for their youngest daughter. They have arrived from Bombay but we know little else about their life in India.
What's most amusing about Bridgerton is seeing a Netflix show fall back on tropes that Bollywood is slowly leaving behind – a love based on breathless attraction, an obsession with marriage and ornate bangles that only fit the hero's one true love.
Whose story does Bridgerton tell?
The diaspora has praised showrunner Shonda Rhimes' choice to cast dark-skinned Indian-origin women as the show's heroines.
"The Indian movie industry should be hanging its head in shame for holding on to archaic casting practices based on colourism while a Tamil woman… is being celebrated for her talent and her stunning beauty across the rest of the world," an Indian-American woman wrote on Facebook.
Ashley and Chandra have both spoken about how the roles were personally important to them. "No-one let me forget that I was dark-skinned growing up," Chandra told spoke to Teen Vogue. Ashley said in an interview that "it's wonderful that more South Asian women can identify themselves within these characters".
Total Views: 113 ,